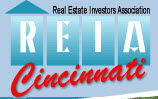 Everyone needs help getting oriented into the Real Estate market… let us assist you by providing the best in educational opportunity…
The Real Estate Investors Association of Greater Cincinnati (REIA GC) has been providing quality educational services since our founding in 1973. We specialize in assisting new and veteran real estate investors with timely educational programs, networking opportunities, and a fabulous library.
It is our mission:
To educate our members about real estate investing and provide whatever tools we reasonably can to help members become successful.
To represent all real estate investors through building a positive, ethical image and positively affecting legislative and regulatory issues.
We believe the best way to achieve this goal is to attract and retain honest and ethical real estate investors in pursuit of financial independence.
For Additional Information, Please Contact:
Cincinnati REIA
525 West 5th Street
Suite 101
Covington, KY  41011
US
(859) 292-7342
(859) 581-5993 Fax